Steven Huang (aka Steven the Psycho) is a minor character in The Great North.
Appearance
[
]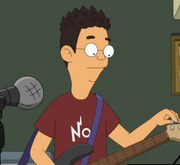 Steven is an Asian-American teen boy with dark hair and an olive complexion.
He wears an orange jacket over a yellow shirt, brown pants, and dried shoes.
Personality
[
]
Steven is a kind teenage boy.
He plays guitar in Messengers of Chaos with Bethany.
Relationships
[
]
Although he and Judy kissed in season 1, in season 2 it's revealed he is dating a volley ball player named Chrissy.